Post by mr3putt on Oct 19, 2015 22:41:12 GMT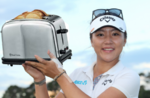 I noticed Solheim USA was pumping up Lexi's win on the twitter.
Is this going to be a thing whenever an American wins? Seems kinda weird (and generally uncool) to be partial on regular tour events.
Who runs Solheim? Is that the LPGA at all?
Classic Merican flag waving.....you mentioned USA Solhiem.....not Solheim....so I'm not surprised about the Merican fanfare/bias.
Talk about flag waving....I saw a video ( I can't find it....maybe others will have better luck) of Whan getting all amp'd up bringing the Solheim Cup into the LPGA offices and putting it into some trophy case.
Whan is the commissioner (not CEO) of a
GLOBAL
LPGA tour who represents ALL of the tour....IMO....he should be non-partisan...and this is not the only incidence of his bias towards all things Merican.
IMO...they should have waited until Juli came back from the Hana to have her bring the Solheim Cup into the LPGA offices and awarded Suzann a special US flag on her contribution to help the US win the Cup.
I believe the rights to the Solheim Cup belongs to the Solhiem family/organization where they seek out the help of the LPGA & LET/LGU to help administer the events.
I met a really nice lady who works for the LPGA office at this year's CP CWO who moved to Denver for 2 years to manage and organize the 2013 Solheim Cup....she's now back in another Sr. role for the LPGA organization.
OK.....I found it...here's the video.
www.youtube.com/watch?v=FznSR_P96pw
If I was a Euro, Asian, etc LPGA pro.....I wouldn't be too happy watching the LPGA commissioner showing so much Yank bias when he should be representing all members of all countries equally.....and don't give this...... the LPGA is a US based entity blah blah blah....if not for international HQ based company sponsorships....the LPGA would be nothing more than an upgraded version of the Symetra.
I equate the above to a NFL, MLB, NBA or NHL commissioner flag waving for a specific team.
It's no wonder why The Smiling Buddha roots for the Euros...even though he lives 50 kms from the Canadian/US border.
OLE OLE!!!