Post by mr3putt on Jan 28, 2015 17:12:46 GMT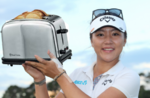 You should put this in it's own folder to get the attention it deserves.
Get work and details....kudos!!
I appreciate the 'personal' stuff written about each pro.
You often write about the importance of distance on the LPGA tour.
"she certainly has the game to contend on the LPGA, especially given how important long hitting can be on this tour."
"For one, she is another very long hitter, and that always helps more on the LPGA than KLPGA."
Are you implying the importance of distance that is common among many of the top LPGA pros in order for the gals on the LPGA tour to contend or win vs. a shorter hitting KLPGA tour?
Or are you discussing the importance of distance on LPGA courses vs. KLPGA courses.
IMO....length is not only important on the LPGA....but all tours....men & women.....bomb and gouge does help...but ultimately we all know the lowest score wins not matter length or not.
Thanks for the positive words!

IMO, length helps anywhere, but the kind of courses the KLPGA plays tend to be tighter and require stronger short games, whereas there seem to be a fair number of LPGA courses with little rough and generous driving areas, which really helps the longer hitters. That's why Mirim Lee, for instance, seemed to thrive more here than she did back in Korea. I think it will help Ha Na Jang, Sei Young Kim and possibly Ju Young Park as well, as they are all in Mirim's ballpark lengthwise.
IMO....from what I've seen on live streams, the KLPGA courses don't seem that much more punitive or tighter than LPGA courses. I also haven't seen very punishing rough on the KLPGA courses.
Not to say the LPGA plays a lot on the classic tree lined clubs with many trees or with thick rough......since golf is 'relatively' new in S. Korea.....there aren't as many tree lined parkland courses that have been able to mature with large trees where one needs to draw and fade shots off the tee blocks.
I've said it before many of the KLPGA seem similar in design based on the new style of course architecture.
Mirim Lee who has length has won because she played well those weeks and yes, length helps.
I think length is more important on the LPGA because many of the LPGA pros who are winners and contenders have length....but we all know length isn't everything as of the top 20 distance LPGA pros......approx 40% are relative unknown pros.
PS I saw a pic of Stacy Lewis....she looked very tanned and I don't think it's from the beach....looks like she's been beating balls.
I think she was quite dis-satisfied with her 2014 season....so as usual...she's be contending many times in 2015....much to my dismay.....lol.
It's kind of unbelievable she would only play the now discontinued 2009 ProV1x and now playing a Bridgestone B330-RX...she's been testing balls in the off-season.
Lewis, although a Mizuno gal....has played the 'dated' R1 for quite some time.