Post by HappyFan on Apr 7, 2015 23:35:06 GMT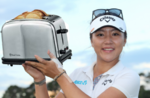 HappyFan:
You are hilarious....you need to change your moniker to FunnyFan.
So I assume you think that Wie and Ko are not REAL Koreans...BJ and Bo are the most exposed/media covered parents on the LPGA followed by The Dragon Lady.
In all fairness....I never knew what Paul Creamer looked like until they showed him on TV at the 2010 USWO...when The Pink Diva won....and I had also been to my fair share of LPGA events prior to 2010.
I'm sure the majority of the staff at GC are Caucasian....so we all know white people think Asians all look the same....so in fear of showing the wrong Asian parent...they'd rather show none.
HappyFan....try walking in my shoes.....you can not believe how many times total strangers at the airport or store walk up to me and say:
"Hey, longer time no see"
"Hi where have you been...you haven't been to the store in ages"
If they don't put much focus on Korean parents...why do we hear about Chella's dad's story 15 times every round she's in contention...ugh.
As far as the media is concerned, Ko and Wie are not Korean, so it's not surprising to see them get a more sympathetic treatment (the American first names probably help, too). I had forgotten about Chella, but even there, her dad is actually on the course; they're not having to find him in the audience like they did with Lewis' dad this week. You're right, that is one case where they do give a Korean parent a lot of exposure. But her dad is her hook, like IK Kim's missed putt and NY Choi's telling her parents to stay home are the go-to stories for those players.