Post by philknj on Jun 28, 2022 23:39:44 GMT
There is a wealth of stats on the LPGA website by tournament, so I'll include the pertinent stuff in this report.
I arrived at the 1st tee around 7:45 AM as the threesome of Elizabeth Szokol, Caroline Inglis and Vivian Hou was getting ready. I picked up the pairings sheet and it showed Mi Hyang Lee going off #10 at 12:53 PM, so I had a lot of time killing to do. That included watching The New Ko tee off at #10 (I was out of the frame on the left) -

Jin Young Ko, of South Korea, waits to play the 10th hole during the first round of the ShopRite LPGA Classic golf tournament, Friday, June 10, 2022, in Galloway, N.J. (AP Photo/Matt Rourke)
I joined the 8:21 AM players beginning at #1, the Ping trio of Hinako Shibuno, Angela Stanford and Lauren Stephenson. At least three photographers were at the start and these players were joined inside the ropes by Japan's TV Wowow ... Mitsuki Katahira on the mic with a mobile camera team. I don't know if they were showing it live or recording it for later. If I were in charge, I'd override the scheduled programming and show it LIVE ... it was 9:21 PM in Japan when they started and the ratings would be HUGE!
Friday's course yardage was only 6,046 yards (par-71), but the field shot 71.757. The wind was not as strong as the day before, but it was noticeable. Another contributor to the scores was the field quality (or lack of). With a return to its traditional early-June date, this field is usually the worst on tour and this year was no different.
Shibuno got a taste of the brutish par-4 2nd hole (set at 415 yards), which Karen Stupples once said was the hardest par-4 on the LPGA tour. Her drive was in the rough, which was cut to 'only' 3" during the week, but she must have been in a deep bad spot. She made a hard chop at the ball, producing a ten-yard grounder into the patch of rough separating the end of the fairway and the green ... finished with a double-bogey six.
No. 2 dished out the most punishment by hole on Friday with a 4.313 scoring average, which is not surprising: unfriendly sightlines off the tee, minimal and narrow fairway grass and a longish approach shot into one of the shallowest greens. It was tied for the toughest hole on Saturday. It was even worse on Sunday, even though the cut eliminated the 'bad' players (in theory) ... only 3 birdies in 76 tries, producing a hideous average score of 4.513.
I stayed with the Ping trio thru the tee shots at the par-4 6th hole. Shibuno (-1 thru #5) recovered a stroke with a birdie at the par-4 5th hole (290 yards). Stephenson (+3 thru 5) bogeyed #2 and found a fescue mound on the left at #5 ... took an unplayable and doubled the hole. Stanford (-1 thru 5) clunked her ball all over the 1st hole, but made a tough par-saver putt ... later birdied the par-4 4th (379 yards).
While at the par-4 8th tee (317 yards), Jeong Eun Lee 6 arrived with a red '4' on the standard bearer sign. That's when my jinx kicked in ... she drove her ball way left into the tall junk behind the 4th tee, followed by a provisional down the middle. She and her caddie did a perfunctory glance on the left, before returning to the fairway to hit her third shot and three-putted for a double.
JEL6 fouled up the par-5 9th hole (467 yards) by having to hit her second shot out of the garbage dump that crosses the fairway. It's extremely rare to see an LPGAer hitting from there (although Aditi Ashok hit from there in the PM) ... I assume the wind into your face and crossing a little from right-to-left at the tee was a variable. Lee made bogey, finished her first nine at -1 ... played with Jenny Shin (-2 thru 9) and Kelly Tan (+1 thru 9).
The scoreboards indicated that Steph Kyriacou was trying to shake up the world, so I arrived at the par-3 17th green (111 yards) where she made her birdie putt to go 6-under. After finishing with a five at the par-5 18th, she talked with the media. Her bag was nearby ... includes a bulbous #4/22-degree Titleist U-505 utility iron (see pics below).
While at the 4th tee, Katie Yoo showed up with a red '1' thru 12 holes. This was heady stuff for a player in only her third career LPGA start with no career earnings. Then the jinx kicked in with bogeys at #4 and #5. I departed, but the bogeys continued at #6 & #7. Her caddie was Jeff DeCoen, who is easy to spot with his Fluff Cowan bushy moustache and green LoudMouth attire. She played with Giulia Molinaro and Haylee Harford. Molinaro created a self-logo on her cap with the letters 'G' and 'M', but I don't think it works artistically.
I dropped by the SWAG tent area for an early lunch. I'm happy to say that the food samplers received a boost this year, compared to the diminished offering of the 2018-19 timeframe. Topping the list was a half-veggie burger and a chocolate-coated vanilla ice cream on a stick. I don't think they were handing out these dogs on Friday, but I had a freebie on-course during Thursday's pro-am: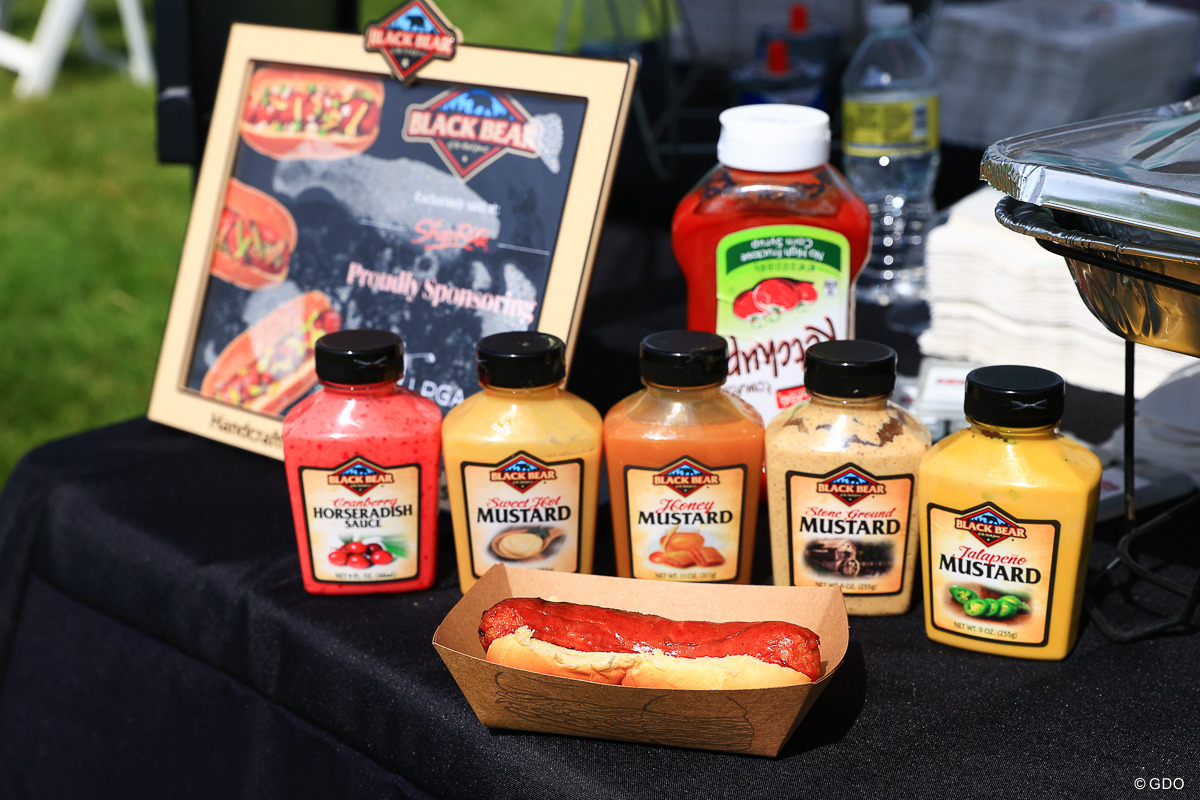 Mi Hyang Lee started her day at the par-4 10th (341 yards) with two players I didn't want to see, Kaitlyn Papp and Brooke Matthews. Papp doesn't interest me in general. As for Matthews, I followed her the day before in the pro-am and also in the U.S. Women's Amateur last August ... didn't show me anything new, aside from the fact that this long hitter at Westchester CC last year is probably longer now. She was 3rd in driving distance Friday at 283.0 yards, just behind Anne Van Dam (286.5) and Maria Fassi (285.5).
MHL got off on the wrong foot at #10 by knocking her tee shot into the right bunker:
GALLOWAY, NJ - JUNE 10: Mi-hyang Lee of Korea tees off during the ShopRite LPGA Classic presented by Acer on June 10, 2022 at Stockton Seaview Hotel and Golf Club in Galloway, New Jersey. (Photo by Rich Graessle/Icon Sportswire) (Icon Sportswire via AP Images)
She has put her ball into that right bunker more than once over the years and I don't know why ... most players, including her, are hitting less than driver to a wide landing area. At least she flushed a good-looking iron out of there, but getting the distance spot-on from sand became an additional hurdle. The flag was only six paces deep and her ball went well over it ... and the first putt was downhill. As for the putting, I've never seen her make a key putt on this hole and she needed three of them to complete it.
It looked like it would be another lousy day in the neighborhood, similar to what I saw at Mountain Ridge CC last year ... all I could do was hope I would be wrong. She plodded along mostly with pars (and 15 of 18 GIR), but I saw only one tough putt made all day (a par-saver). A lousy bogey at the par-4 12th (320 yards) dropped her to +2.
I just skimmed over two highlight videos on the LPGA website from Round One and neither has the best shot of the day, MHL's tee ball at #15 (176 yards). Some of the TV towers were not manned. As for the shot, I've never seen an ace in person, but her ball came within two inches of being the first.

There was no reaction from the tee, but with an elevated green, I doubt she saw where her ball finished.
At the par-4 16th (355 yards), MHL had the shortest drive, but the closest approach to a flag that was only six paces deep, but her ball finished below it for an uphill putt. You gotta make those and she didn't.

MHL continued on with pars at nos. 17, 18 and 1. To save my feet and avert my eyes from a possible disaster, I chose NOT to follow her on the 2nd hole ... a wise decision as she bogeyed it. Then it was back to pars again, including a nice scrambly save at #4. She was just off the green in a lie I couldn't see, but it was bad enough to require the only shot possible to get the ball close to the stick, a high flop which she pulled off ... the putt was a cinch.
She had Casey Johnson on her bag, a loan-out as his regular player Eun Hee Ji was off this week. I assume his work was satisfactory since I did not see her give him The Death Stare after a bad shot. I took a pic at the 6th tee (see below). Except for him, she was alone this week ... I didn't see her daddy on Thursday or Friday.
MHL approached the final hole, the par-5 9th (467 yards), at +2. She had pars on the other two par-5 holes, which just doesn't make the grade around here, regardless of the wind. She just HAD to make a birdie here. I was behind the tee box watching her ball flight, but I saw no ball flight after contact. Imagine a spring breaking inside a clock, causing the parts to pop out in every direction ... that's what the follow-through of her swing looked like. She must have hit a low duck-hook.
The ropes didn't go down the left side, so I couldn't see her lie, but it must have been horrendous. She was above the bunker and the ball was well below her feet ... took a wide stance ... she probably had a wedge as the clubhead looked dark. At impact you could see the club turn over immediately, producing a 20-yard liner further left into a high fescue mound. After finding her ball, she made a fast decision by pointing WAY back to where she'd take an unplayable drop. She must have found a good spot because I think she mashed a 3-wood with everything she had, clearing the garbage dump by plenty. She followed this with an iron all over the stick and a one-putt for a six, which gave her a 3-over 74, ugh.
As a fan, what do you DO when you see this? What do you SAY when you see this? Maybe from a lack of imagination or nerve, my answers were nothing and nothing ... after signing her card, she started walking towards the clubhouse and I started walking back towards the 9th tee. Matthews shot 74 and Papp shot 71.
I spent the remainder of the day mostly at the 9th. Karrie Webb came through and impressed the heck out of me ... drove the ball down the middle about 20 paces behind the 201 marker, or a 246 poke
into
the wind by an old-timer who hardly plays anymore. Dana Finkelstein arrived two groups later and was 30 yards shorter.
The always cheerful Ilhee Lee departed the 8th green for the 9th tee at +7. She did a right bodyside contortion after her drive, but it did no good as the ball found the right rough. She took a few more whacks and finished with a bogey for a plus-8 79. But, try to take her smile away ... you can't!
Lee played with Nuria Iturrioz, who really tagged her drive at #9 ... the high 250s or low 260s if I recall ... made birdie and shot a 1-under 70. She was playing in her first LPGA event since Walmart/NW Arkansas last September. As a result, the tournament golf process must have been hazy in her mind ... she walked off the green, walked past the scoring tent and continued walking towards the clubhouse. She was about 40 feet away when two or three guys starting yelling her name! Thankfully, she did not walk away from the biggest LPGA check of her career, $11,420.