Post by philknj on Jul 5, 2019 1:36:05 GMT
That was a tumultuous nine days for the LPGA.

I wish I had been a fly on the wall at the 2nd floor dining room of Mancy's Steakhouse in Toledo ten years ago (Sat., July 4, I think) when the Gang of 15 sanctioned a hit on Bivens. For the record, they drafted a letter to the LPGA board (Michelle Ellis was president) saying they had lost confidence in the commish. The Board concurred with this recommendation...I think the vote was 5 to 2 with Christina Kim (this was during her loopy Twittering days) and Sherri Steinhauer dissenting. BTW, Eunjung Yi won in Toledo on Sunday, the only top-10 of her LPGA career.

Then it was on to the USWO at Saucon Valley CC in Bethlehem, PA. No, I did not see Mickey Mouse (aka Eun Hee Ji) win on Sunday, but I attended Round Two on Friday, my first USWO. This was a last-minute decision on my part...I should have planned ahead, so I could have attended additional days there. A one-day grounds pass bought at the gate cost $40.

Here's the report I posted on the defunct SS forum board (I added in some pics I looked up today). One name I forgot to mention was Stephanie Wei, who I saw wearing flip-flops and smoking a cigarette.

***********
***********

I got to the main clubhouse area at 7:05 AM, but missed Kim Kim and Alexis Thompson tee off at # 10 by five minutes. The first and tenth holes run parallel and a practice green sits between both tee boxes. While MJ Hur, Karine Icher, and Victoria Tanco teed off at #10, they announced the players hitting at # 1, including "Isabelle Bicycle".

First round leader Na Yeon Choi was going off # 1 at 7:33 AM with Suzann Pettersen and Lindsay Wright, so I decided to follow this group for a little bit.

The first is a par-5, 549 yards. Pettersen started with a tremendous straight ball, but her second shot went left and finished under a tree. Choi's tee shot hit the left rough. Her second hit the right rough. Her third was short of the green. Her fourth was a hideous chip that finished fifteen feet short of the hole...made bogey. Pettersen's wedge from under tree hit the green, but not close to the pin...she slowly shook her head in disgust. Made par.

Na Yeon Choi of South Korea, reacts to her second shot on the first hole during the second round of the U.S. Women's Open golf tournament, Friday, July 10, 2009, at Saucon Valley Country Club in Bethlehem, Pa. (AP Photo/Mel Evans)


The second is a par-4, 435 yards, uphill second shot. Choi's approach was short of the green. Then she scalded a chip ten feet past the flag and made another bogey. Her partners made par.

Choi plugged up the oil leak with pars on three and four. Pettersen birdied the short par-4 third, which is not hard *IF* you find the fairway. On the uphill par-3 fourth, Pettersen snapped, "Soft! SOFT!" while her tee shot was airborne...made par. After Choi's group teed off at # 5, I left them and walked back towards the third hole, where I met Kyeong Bae's group (with SS Feng and Shiho Oyama).

Shiho Oyama and the SS Feng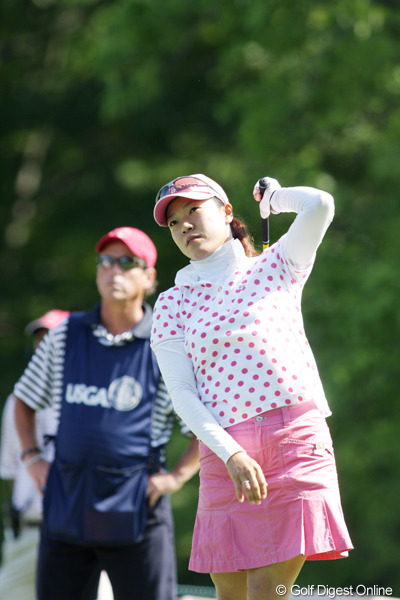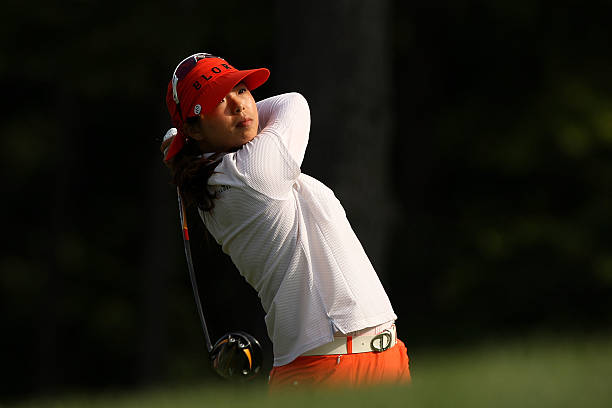 Oyama was in the left rough, which is dead. She had to lay up short of the brook in front of the green and made bogey. Feng split the fairway and made par. KB was in the right intermediate rough (daddy was following her group, as usual). KB was holding a club as she turned to her caddie and said, "I like this club." He replied, "I do too. Hit it full." He should have added, "hit it flush", because her approach was low, weak, and wet. After her drop, she pitched it close and made bogey.

After Bae's group played number four, I walked back towards the third green where I saw writer Ron Sirak chatting with people. I later saw writer Beth Ann Baldry at # 9. I let the current group pass (JY Shin, A. Blumenherst, IB Park), so I could follow the next group (Bam Bam Lincicome, HK Seo, Angela Park) for a while.


I hope someone gave Angela a therapeutic hug after this round, because she needed it. As expected, she's the shortest hitter of the group and her drive on #3 found the left rough, so she had to lay up. She wedged it close and saved par. She found the sand in front of the par-3 4th green, but saved par again. Her later drives also stunk. One was a push to the right. Another was a rightward banana ball that hit a tree hard and bounced back to the fairway. On the par-5 6th, she had to hit a short lay-up second shot to avoid about 100 yards of deep fairway bunkers guarding the right side. Her third shot was with a three-wood and she made bogey.

Angela Park hits from the bunker on the ninth hole during the second round of the U.S. Women's Open golf tournament, Friday, July 10, 2009, at Saucon Valley Country Club in Bethlehem, Pa. (AP Photo/Mel Evans)


As for Seo, I thought this event might overwhelm her, but she's got a really good all-around game...and nice to look at too...Seo is no sow! Her best drives were only 15-20 yards behind Lincicome, she hit some good irons, and I saw her drain a long birdie putt on the vicious seventh hole. I don't know if her caddie is a local guy or not, but he was quite demonstrative in helping with her second shot from a fairway bunker on #5.

Of course, Lincicome was the main attraction for most of the spectators. A couple girls with backpacks and hats that said 'vision54' were following her. I also spotted ex-USWO champ Betsy King following with a couple of friends (one of them was her high school basketball coach).

Regarding # 7, it's a par-4 of 453(!) yards with a far-right sucker pin. The driver landing area is booby-trapped by a narrow neck and a deep fairway bunker on the right. Good news: Bam Bam bombed it past all the trouble. Bad news: everything after that. Her second shot missed right and was in thick grass. She practiced a quick wrist-breaking flop shot several times...and popped it over the green. Had the same lie, but now it was a little uphill. Yep, she left it short at the top of the hill. She chipped on and made six. I assume Seo kept BB's score because I saw her point at all the areas to count the strokes.

After BB's group finished the first nine, I reversed course and found Kim Kim in a greenside bunker at # 7. She blasted out well and broke out a nice smile from behind her shades...and she was +14. She made the putt to save par and smiled again. Thompson is just plain scary. You could drive a truck through the arc of her driver swing. She hit a moon ball to the center of the par-3 ninth green, while it seemed like most other players were barely getting the ball past the water fronting the green. While walking past the ninth green, I spotted Thompson's coach Jim McLean.

Kim Kim


I took a walk over to the driving range, but didn't see anything of interest, so I headed towards the clubhouse.

At 12:30 PM, the afternoon groups were ready to start. Laura Davies hit driver at # 10 using her standard volcano-shaped turf tee. Then I checked out the nearby 16th tee.

JY Shin's group teed off at # 16. Regarding Blumenherst, she swings the club like an ungainly stevedore, but she's long and strong. I stayed downrange and waited to pick up the Lincicome group again. I noticed Bam Bam's daddy was following along too.

The 17th hole is a downhill par-3 of 170 with pin in the front right corner and big bunker in front. BB knocked it on and made birdie. Angela hit the bunker, but saved par. As she walked the path to the 18th tee box, she said something to a couple of guys outside the ropes, which made them chuckle. They appreciated her demeanor, considering she was +16.

The 18th is a downhill par-4 of 444 yards. Angela hit a nauseating, incomprehensible, full-blown quacker into the left trees. I couldn't watch anymore and took off.

The next group I picked up was Esther Choe, Allie White, and Miki Saiki. White is a high schooler who had at least twenty people following her. Most of them were classmates wearing caps that said 'OHIO FARMER'. This is the name of her dad's company. White also has a lot of power, although there were no spectator yardage markers to measure it. On the 14th, she outdrove Saiki by 35 yards and Choe by 45 yards. FYI, Saiki used an orange ball. Is it 1980 again?

I picked up Cristie Kerr's group just as Kerr started her birdie run on 15-16-17. On the 18th tee box, she temporarily took off her scowl to pat struggling Yani Tseng on the back for hitting a humongous drive.

Kerr and Tseng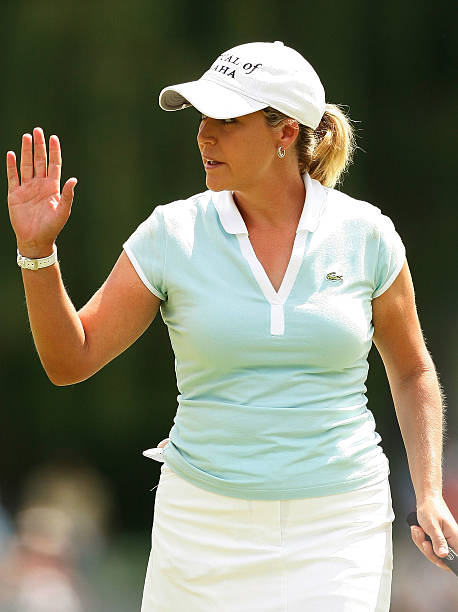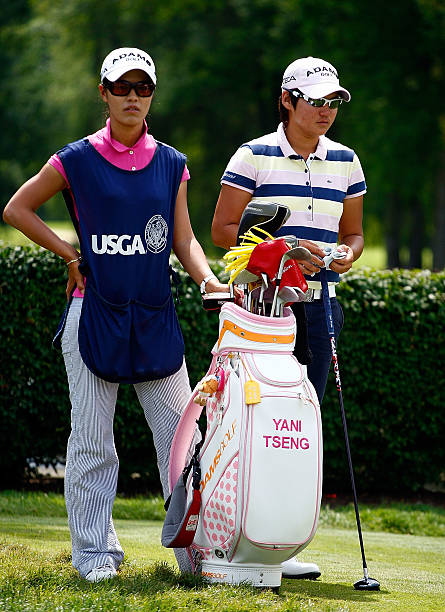 While revisiting the 3rd hole, I spotted some activity at the driving range, so I went for a closer look. NY Choi was having a chipping session with her coach. At one point, he put his hand on her head while she chipped. Another time, he had her get up on her right toe to chip. Pettersen was in the spectator area speaking with ex-USWO champ Allison Nicholas and Joanne Morley. Nicholas and Morley were wearing Solheim Cup shirts.

I reunited with Kerr's group on # 3. Anna Nordqvist was in the group, which might explain why Mikaela Parmlid was following along. She was with a guy who was probably Tseng's coach. I heard him say Adams irons are made of very soft metal, so she needs to recheck her lies and lofts often, especially since she hits 'em so hard.

I ditched Kerr's group and picked up Hee Young Park's on the third hole. I was surprised to see Gwlayds Nocera repeatedly outdrive Park. Someone following Nocera said she had a flight to Chicago Sunday night, in order to get in some Solheim Cup practice.

Hee Young started stumbling on the par-5 sixth. She drove into the intermediate rough. Her caddie, an Aussie girl, said, "If it were an inch to left, I'd say go for it. But, it will come out end-over-end from there". She laid up, then hit three-wood and made the first of four straight bogeys. The driver didn't cooperate; she whacked the ground three times with it on # 8.

I hung out at the ninth green where Stacy Lewis and another player checked scores on their PDAs. I asked Stacy about the cut. She said, "It's eight, but it needs to be nine!" Haeji Kang reached #9 at +8 and missed a two-foot par putt. I assumed she blew her weekend, but later figured out she was safe and helped eleven other players. That explains the Colombian fans dancing around with their flag.

Took one last trip to the range. Ji Hee Lee was getting some intense coaching from a Korean woman I couldn't ID. She had a white floppy hat, white slacks and similar build to Young Kim, but I don't think it was her. At least Lee & caddie Seol An Jeon will make some bucks this week.

By the way, I noticed there were emergency defribulator boxes attached to trees. They might get unexpected use on Sunday.