Post by philknj on Jun 19, 2018 15:44:22 GMT
I took a leisurely pace to the shuttle area as Mi Hyang Lee's group (w/ Amy Yang and Hannah Green) wouldn't be teeing off until 12:59 PM at #1. Aside from the school buses, they also had a few Kia vehicles driving people to the course...I chose the bus as I didn't feel like hearing a sales pitch. I would see plenty of Kias parked all over the golf course anyway.
I took a walk to the front nine to see who might catch my attention. Laura Diaz and Sandra Gal were in the same group and under par during the early going, but I passed on them to check out Jimin Kang (-1 thru 3 holes) at the 4th tee. She flashed me a smile while waiting to tee off with with Gemma Dryburgh and Celine Boutier. Jimin was a tad mushier than the svelte greyhound I photographed at Upper Montclair CC about ten years earlier. She had a Titleist cap and is playing Titleist AP1 irons. She hasn't been with Honma since at least 2014, but she wore black BERES undersleeves. The swing looks the same, but she might have lost a couple of inches off the fastball at her age.
I followed the Kang group thru the 9th hole tee shots. Jimin maintained her -1 score during that time. Dryburgh was +4 when I first saw her, but then she reeled off three straight birdies. However, the player that really impressed me in this group was Boutier...not a long backswing, but a precise ball striker. The par-3 7th is an uphill wind hole of about 180+, flag in the front/right. Almost everyone hits hybrids or FWs, but Boutier hit a low laser beam iron straight at the stick and the ball dropped anchor immediately for a two-foot kick in birdie. Kang made par, although she started her tee ball far enough left to say, "Oh s***". I didn't see the bag lady under trees at #7...maybe she showed up on the weekend.
I was surprised to see Boutier tee off with a FW at the par-5 9th hole. Maybe she was planning to lay back for that obsolete relic called the 80 to 100-yard wedge shot, but I didn't stick around to see what she did.
Hee Young Park (-3 thru 10 holes) had a good round going, so I decided to pick her up for the back nine. She was grouped with Mo Martin and Haru Nomura. After bogeying the par-3 11th, the highlight of her day was the par-4 12th hole. The flag was in the back right/center of the green. Her approach was left and long. Then from off the green she popped her wedge high, it hit short of the hole by about six inches, took one bounce against the stick and dropped in the cup! She is gaming Fourteen RM-22 wedges. After the roar around the green died down, The Rocket turned to her caddie and quietly said "Oh my God!"
The par-4 13th is the grip-it-and-rip-it hole. I don't know what's wrong with Nomura this season, but her mediocre drive low and left might be a clue. She is still gaming Yamaha gear, just as she was in 2014 when I saw her two-putt for a 63 at the 9th hole during Round One.
Mo Martin had her usual supporters with GO MO! Buttons. I assume she had arranged to have the guys in the booze pavilion overlooking the 17th green wear t-shirts which spelled out her name, M-A-R-T-I-N. I didn't know until later that those guys were spelling out the names of many players.
After HYP's group teed off at #17, I visited the swag tent area to get lunch. The Black Bear meat section only had hotdogs on the grill, no bratwursts or sausages like in the past...I guess they didn't want to take away business from the vendors on the course. A different table was giving away packs of chips with cold hummus dip, which was good.
MHL already teed off from #1, but I would pick her up later as she came up the par-5 3rd fairway. Meanwhile, I took a walk over to the 9th green where In Gee Chun(-4) was being interviewed after her round. When she had difficulty with a question from an American reporter, manager Kylie Pratt interjected and asked a Korean reporter to help translate. I saw no Flying Dumbos.
Jenny Shin was outside the scoring tent at #9 signing autographs. Someone asked her how she did. She answered, "Three-under, but I left a lot out there, especially on the par-threes and par-fives, like this one (the 9th hole) where I made par from twenty yards." Remember her last six words...it seems the plan of laying back 80-100 yards and dropping your ball down a smokestack with a full wedge like Steve Stricker or Zach Johnson is a dying concept on this tour. Or, these players don't like doing that on an unusually short golf course like this one.
MHL was Even thru four holes as she teed off at the short par-4 5th hole. She had about 40 yards to the pin...her pitch landed near the flag, but kicked forward considerably. Her birdie putt was even worse as she blew it past the pin by at least eight feet...missed the comebacker and made a stinking bogey on a 301-yard hole.
The par-4 6th hole usually give Mi Hyang problems and she followed form by driving it into the left rough. With a strong right-to-left breeze, Cheeseburger Chad Payne advised her to let her approach shot "ride the wind" to the flag on the left. But, her ball was too strong and rolled over the back...chipped on and two-putted for bogey.
Mi Hyang fought back with birdies at #8 and #9 and returned to Even. I was opposite the line of her birdie putt at #10, which deviated immediately, so she settled for par.
Now for the slightly downhill par-3 11th hole (184 yards). Mi Hyang teed the ball quite low and probably hit a hybrid (I don't think it was a FW). The impact was unusually loud and she tore a ragged divot through the turf. I looked downrange and her ball had way more hook spin than normal...even worse, it dropped into the two-foot high fescue mound protecting the front-left of the green (the flag was in the far-right middle).
She climbed to the top of the mound (at least eight feet over the green), found her ball quickly and took a hack at it. The ball rose about three feet and advanced about the same distance. Her next hack went about 12 inches high and advanced about the same distance. She looked down to Chad and changed clubs. Her third hack popped out and landed on the green's collar. She putted across the green, leaving her a putt for a six, but it went completely offline...tapped in for a quad-seven. Hannah Green (says GREENY on her yardage book cover) also butchered this hole...missed the green, chipped on, and three-putted. She was three-under on the front nine, but started hitting a lot of loose shots after that.
Ugh, I had to watch the standard bearer put a black '4' next to MH LEE on the board. Fortunately, she knocked in a ten-footer at #12 to get to +3...Mi Hyang fighting! But, I was realistic in putting her under a black cloud for the rest of the day and Saturday...her career-best here is "only" 68 (-3) and plenty of other players were tearing up the golf course.
BTW, this was the first time I followed Amy Yang in person, who is so dull and boring in personality and efficiency that I was genuinely surprised to see a red '4' next to her name on the standard bearer's board after 13 holes. Yes, I saw her hit fairways and greens and roll in the occasional putt, but I must have been nodding off when it happened.
Mi Hyang made pars from #13 thru #17. She drove it to about the 260 hashmark at #13...she has gone right up the Callaway product line for drivers in the last five years, but I'm not convinced that her current Cally Rogue is better than last year's Cally Epic driver.
While waiting to tee off at the par-5 18th hole, she got a smile out of Amy by matching up her Callaway Rogue driver to Amy's Rogue. MHL's has a plain grey Diamana shaft ('S' flex, I think) while Amy's probably has an ACCRA shaft...she has that brand in some of her FWs and hybrids. I don't know about Yang's shafts in her gleaming Fourteen FH-900 Forged iron set.
Amy's Rogue went rogue at #18...I never saw someone drive a ball that far left and long before at this hole...I think she finished in the first cut of the 9th fairway. Fortunately, the trees she needed to clear were not high for her recovery shot. As she got ready to hit, a cameraman was sitting on the cart path about 30 yards ahead and took these pics...she has an Aussie looper:
Yang's third shot was surprisingly poor and finished short of the green, but she chipped on and made par for a 67 (-4). Greeny made par and staggered home with a 74 (+3).
Mi Hyang's second shot from the right fringe finished short of the green on the right side of the fairway. The flag was on the right, mid-way back. I walked up on the bleachers and hung over the railing to get a good look. Cheeseburger called it: "It's a thirty-yard shot...thirty yards." What do you do? You could land it on the front and let it roll to the hole, but that concept might be passé on this tour, too. You could hit a high flop shot and hope your distance is correct. Or you could do what MHL did, land the ball past the flag with little spin and watch it roll. Really? She had about a 30-foot birdie putt coming back...fortunately, she lagged it close enough for an easy par, but it felt like a bogey.
Yang was interviewed by the Korean media afterward...in the middle of it, she used the English word for elbow. I later read that she had been battling an arm injury.
As for MHL, what does a fan do in this situation? Because of one lousy swing, I can't say "nice round" since it clearly wasn't (74, +3). I can't say "good luck tomorrow", a silly throw-away line when I was 99% certain that she would trunk slam on Saturday. I said nothing and walked back up the 18th fairway to catch some of the later groups.
UCLAers MJ Uribe and Ryann O'Toole were grouped with Jeong Eun Lee 5. I passed them and reached the 18th tee where Sung Hyun Park bombed her drive down the middle...I counted two Namdallas following her.
There's always at least two players with stratospheric scores for Round One at this event and Camilla Lennarth (+13) was one of them as she approached the 18th tee. I don't know what she did before, but she hit a darned good drive at #18.
Robynn Ree's group (w/ Alison Walshe and Mariah Stackhouse) was the last one finishing at the par-5 9th, so I cut over to that area of the course. Walshe hit her second shot with a FW and almost fell backwards doing it. I arrived at the 9th green where Celine Herbin, AJ Newell, and Daniela Iacobelli finished.
D.I. –
see why it's different out here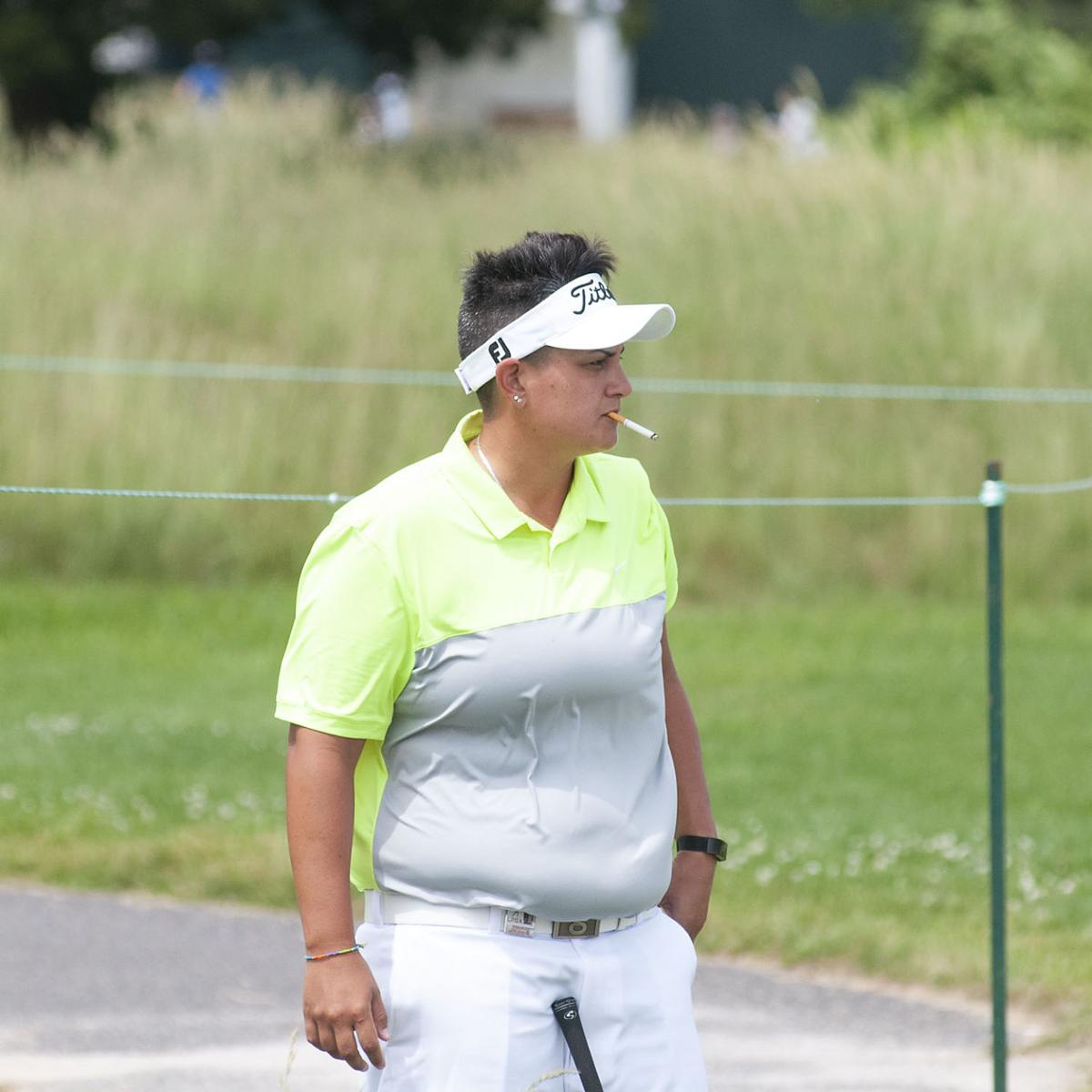 Herbin finished at 66, -5 and received some attention outside the scoring tent. Some guy was speaking to her in French when I heard a roar behind me. Walshe had just chipped in for an eagle-3 and finished -4, 67...I can't stand her swing, but there are times when she can really golf her ball. Stackhouse (says MO STACKS on her yardage book cover) finished at 69, -2. She enjoyed seeing this little fan following her:
https://www.instagram.com/p/BjxzdQbAcAU
Ree finished at 74, +3. She was gaming Fourteen irons, but I couldn't get a good look to see which ones.
I crossed Route 9 to see what was going on at the practice green. Sandra Gal(67, -4) in street clothes was there...Angel Yin approached her and said, "I was so happy to see you posting such a good score this morning."
Robynn Ree and her looper entered the practice green near the Route 9 side. I really wanted to see her sticks so I took a walk over there. They were Fourteen TC-788 Forged irons and she also had Vokey wedges. At this moment, daddy (I assume) showed up, took out her putter from the bag and went into an address position with it. He was wearing a Titleist cap...I don't know if he has a golf background (would it matter? ). Then the 3-part lesson (or lecture) started, which was a mix of English and Korean:
"Number One, (Korean words)."
"Number Two, (Korean words)."
It seems the lecture was not completely new...at the conclusion of Number Two, Robynn let out a long, forceful, and depressing,
"I KNOWWWWWW."
Okay, I really didn't need this ringside seat anymore to figure out what's going on, so I took a walk of about 30 feet to a new position around the green. At the conclusion of Number Three, she walked (or stomped) to her bag and took out numerous tees to set up her putting drill. After a few putts, she returned to the bag for both alignment rods and got all that stuff affixed in a precise arrangement.
Daddy had some follow-up comments during the putting drill and Robynn had a few replies, all from short distance. After one of her putts went in the cup, daddy started reaching for it, but Robynn jumped in and yanked it out herself. As for her looper, he was stuck there...all he did was stand behind the bag and look down or to the side. Maybe he had seen this scene before, who knows.
This drama distracted me from some other drama on the other side of the green where Simin Feng was trying to work while Momma was on the green bending her ear about who knows what. I think Simin was relieved when Momma left the green and returned to her chair. An Asian man (daddy?) was next to her bag the whole time and stayed out of it.
I needed a break from this stuff, so I took the long hike to the range...passed Iacobelli(75, +4) sitting on the back of her SUV saying nothing to her small blonde caddy standing across from her.
When I reached the range, it was completely dead. Huh? There was 30-45 minutes of daylight...forget the range, nobody was at the practice bunker or the pitching green either. Ugh, the walk back to practice green is worse as it is uphill and my feet were finished. As I cut across a parking lot, Team Ree had stopped at a car and the looper was putting the bag into the trunk. The car had Maryland plates, probably a rental.
I reached the sidewalk that runs alongside the banquet hall and Paula Creamer(69, -2) came around the corner in the opposite direction. She wore a hoodie and had her hair pulled up in a big ball. She looked totally dejected...she wiped a couple of fingers across the top of her left cheek and snapped the hood over her head. When I turned the corner, a wedding party was starting to spill out onto the courtyard from the banquet hall. Just a coincidence?
Could this day finish any worse? YES! It was 7:50 PM and I started walking to the shuttle area...boarded one of the mini shuttles that's used for the volunteers...only one vol was on it. He asked how I liked the tournament...I said this was my 10th time down here. Then he asked if I followed any particular players:
Me: Yes, my favorite is Mi Hyang Lee. For 17 holes she was one-under, except that she took a seven at the par-3 11th hole.
Vol: I was the marshal at the 11th green. Oh my gosh, that was horrible, she needed three shots to get out of that junk.
Thanks, I needed that.