Post by philknj on Jun 14, 2017 2:31:25 GMT
Mi Hyang Lee told me earlier in the week that she'd be playing with Laura Davies and Mo Martin, but I didn't ask when. I scanned the Friday tee sheet and saw it would be 1:10 PM at #10. Okay, that meant I could do some general wandering in the AM, but had to return to the swag tents to get my free lunch around Noon.
Where should I go to kill time in the morning, front nine or back nine? Jennifer Hahn teed off at 7:26 at #1...that settled it, the front nine.
I gave my feet a rest by camping out near the 3rd green and 6th tee box. I timed the first morning group of Olafia Kristinsdottir, Jackie Stoelting, and Simin Feng. They completed the first three holes (two par-4s and one par-5) in 45 minutes. They needed another 35 minutes to play #4 & #5 (one regular and one short par-4). I didn't follow them after they teed off at the par-4 6th.
Jennifer Hahn was putting at #5 in the second group with Paula Reto and Madeleine Sagstrom. I looked in her bag and she had Titleist AP2 714s for the 5-7 irons and AP2 716s for 8 thru PW. She's about the same stature as Danielle Kang, but curvier. Her light blue top was thin enough to reveal her brand of sports bra on the back strap in big block letter: PINK. She probably had her daddy on the bag and I think her mom was following along. She hit a big hook at #6, but I chose not to follow her group.
Ideally, I was hoping to find an early group that was tearing up the golf course and follow them the rest of the way. I got my wish while stationed between the 6th fairway and the par-3 7th hole. The standard bearer passed me and his sign said Eun Hee Ji (-3), Jennifer Song (-2), and Catriona Matthew (+1). Ji bogeyed #6, but I decided to stick with these guys at least thru the 9th hole.
I've never seen Jenn look better...she's wear the new LPGA Golfwear brand that was launched in Korea this year.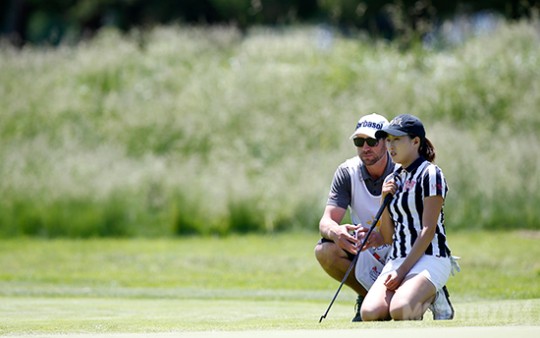 There was nothing noteworthy regarding her playing partners, aside from Ji having 'EUNHEE'on her left shoe and 'JI' on her right shoe.
Song has Yamaha irons this year...I think it's the RMX 116 Tourblade. If she sticks with them, she deserves an invite to next year's Yamaha Ladies Open in Japan.
After her tee shot at the par-3 7th, Jenn pressed an ice cube from the cooler against the underside of her right wrist as she walked towards the green, where she made par. She left herself a long par putt at the par-4 8th, but drained it.
Before teeing off at the par-5 9th, Song rubbed her wrist against a big chunk of ice in the cooler...still made birdie to go to -3. Her group completed the first nine holes in 2 hours and 15 minutes. It was 10:15 AM...at their current pace, I assumed they'd be finished at 12:30 PM, which would meet my schedule. Jenn was among the leaders, so I stuck with her group. Ji was -2 and Matthew was Even.
While walking up the 10th fairway, Song was ahead of me on the cart path having her wrist looked at by a couple of physio trainers in a cart. They rubbed a small dab of white cream on it and gave her an ice bag. I assume she had an insect bite or sting.
No bug would stop Jenn from birdies at #12 and #13 and when she wasn't hitting greens in regulation, she was a short game wizard for her par saves. One of those saves was at the par-4 14th hole...her approach finished next to a tall radio antenna. She received a free drop into greenside rough and chipped out...barely reached the green, but she made the putt.
The Golf Channel broadcasting trailer was parked not far from the 15th green. The broadcast hadn't started yet and separate golf carts with individual names (Whit Watson, Jim Gallagher, Karen Stupples) were next to it. The door was open and at an angle I could see Stupples looking at a laptop or computer screen.
Song's only stumble was at the short par-3 17th...she stuffed it close…
...but missed her short birdie putt. Finished her day with a birdie at the par-5 18th for a six-under 65. Ji had 68 and Matthew had 70.
A woman was waiting outside of #18 to interview Jenn. She had a tablet on a stick and a microphone was connected to the tablet with a wire. I stood to the side as the interview started, but I didn't stay...I had seen what she said!
Song's group finished on time at 12:30 PM, so I darted over to the swag tent area. As usual, Shop-Rite was giving away freebies of its Black Bear meats, so I had a bratwurst sandwich. I was offered chips with hummus dip from another tent, which was yummy. A brand called Cooper cheese was giving away tiny squares of grilled cheese sandwiches...that was good too. Shop-Rite had a diet/health tent, so I grabbed a bottle of their spring water before returning to the course.
I returned to the practice green briefly. When Laura Davies said "let's go" to her caddy, I followed them to the par-4 10th tee.
Mi Hyang Lee greeted the starter: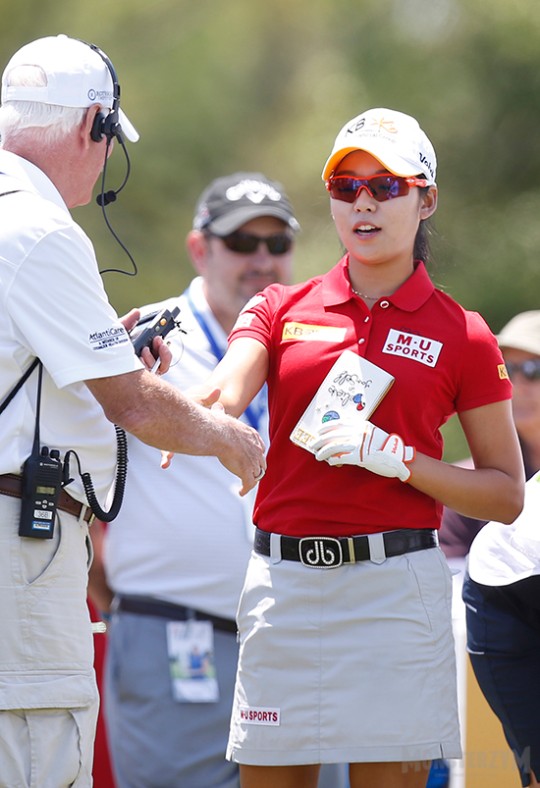 I've seen Laura Davies hit a ball before, but this was the first time I followed her extensively during a round. Since #10 was a short hole, I was not surprised to see her reach for a bulbous, steel-shafted Srixon Z U65 18-degree 2-iron (with one strip of lead tape added on the back). She teed the ball at ground level and swept it clean with no divot...a high draw.
Davies made a nice approach, but missed a short birdie putt. Then Davies three-putted the par-3 11th. I expected this, but she really straightened out her putting the rest of the day.
As expected, Mo Martin was the shortest driver in the group, but her iron play really impressed me (uses Callaway X blades). Even when it got windy, her distance control was excellent. Her people with the 'GO MO' buttons were there.
The par-4 13th is one of the drive measuring holes. MHL's group was hitting into a crosswind, but all found the fairway. I asked the volunteer for the distances: MHL – 260, Davies – 251, Martin – 247. It should be noted that Davies hit off a turf tee that she built up with a wedge...I think she does that when hitting into a headwind or crosswind. Since the par-4 14th holes played mostly downwind, Davies used a tee and murdered it past her partners. There were yardage marking on the fairway (probably for the pro-ams) and her ball finished past the 280-mark.
Mi Hyang was unspectacular. She hit few approaches close to the pins and had to focus on saving pars, not making birdies. On the par-5 18th, her new loop Cheeseburger Chad Payne may have sealed the deal on getting a renewal from his boss.
MHL started her drive over the bunkers on the right, but it was too far right or she wasn't long enough to cut the corner. They found the ball in the tall junk just off the fairway. Spectators had no access to this area and I was across the way on the left, so I had no idea what they found. They called in a rules official which produced a long discussion on what to do (Chad did a lot of talking). My first thought was they were taking an unplayable, but no, they took a free drop with one club length (don't know why). Mi Hyang probably hit a 5-iron as far as she could, then knocked it to within three feet of the flag and made the birdie putt. She's using Mizuno MP-66 irons.
Davies made a working woman's par at #18. She made a turf tee for her drive. From behind her I was staring down between her heels at the impact zone and the clubhead scuffed the ground at least four inches behind the ball. This produced a low diving hook...but she still made the green in regulation and two-putted. She uses a Lynx driver and Lynx Parallax Forged irons.
After playing the front nine, MHL and Mo were -1 and Laura was -2.
Holes 1 thru 8 were mostly uneventful. The par-4 6th was typical for Mi Hyang...here she is approaching her long drive in the fairway:
But, her iron finished off the back of a green that has a huge hump and multiple shelves. After taking a drop from a sprinkler head, she was fortunate to save par.
There was a long delay at the par-5 9th hole...Yani Tseng was in the group ahead searching for her ball in the tall fescue left of a fairway bunker. She finally hit her ball and then her caddy took his sweet time raking the bunker. I don't know his name, but Laura yelled down to him, "Donnie!" The caddies agreed that Donnie was the stingiest caddy on tour, saying he still had the first dollar he made. Laura's loop (an Aussie woman and ex-player who's been on her bag since 2014) said when he opens his wallet moths fly out.
Yani's errant drive prompted a story from Chad: "When we were in Dallas, we started at the 10th hole. Number 11 a par-3 next to a maintenance shed. A ball hit the shed and I thought, 'Only Yani could hit one that far off-line'...and I later found out it was Yani."
Mi Hyang finished with a birdie for an Even-par 71. Davies had a 69 and Martin a 68.
I did some aimless wandering afterward. Watched the final drive at the 18th of Nasa Hataoka. She finished over-par, but did much better than playing Sadena Parks who had a black '12' on the standard bearer's sign.
I walked down the 9th fairway towards the tee box and saw Bronte Law looking at her ball on the cart path right of the fairway. It must have taken a big bounce or roll based on where she was. She had the ropes taken down and I figured she would take a drop. I hustled down there and got behind her target line.
But no, she planned to hit it off the path...while standing in the rough, her feet were little above the ball. Regarding the paths, they seemed to be a mixture of hardpan dirt and sand, sprinkled with small loose stones. Fortunately, the stones were not near her ball. She went after that shot full bore...a flushed high arching draw that landed on the front of the green...and she two-putted for birdie. This was the shot of the day, but you'll never find it on the Golf Channel daily highlight reel.